Creator lists let you easily segment and manage creators at scale for your campaigns.
Creator lists
The Creator list tool in Lurkit allows you to create lists of content creators that you can use to easily segment and invite creators to your campaigns. You can combine external email addresses and creators on Lurkit in your creator lists.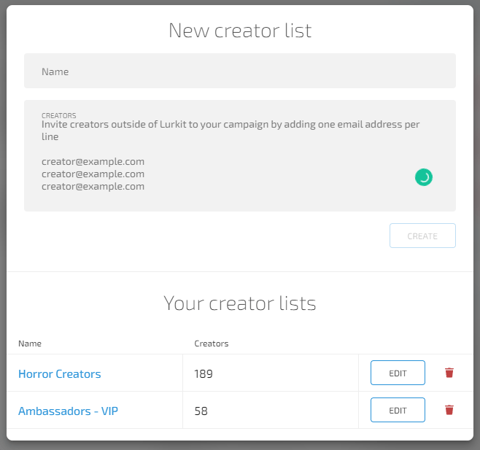 Create a creator list
Navigate to Campaigns in the left panel.
At the top center of the page, click Manage Creator Lists.
To create your list, simply give it your desired name and add at least one email.
Manage existing creator lists
To manage your existing creator lists, press Edit next to the list you want to modify.
In this view, you can add more external creators by adding one email addresses per line.
If you wish to remove a creator from an existing list, press and then Confirm Delete.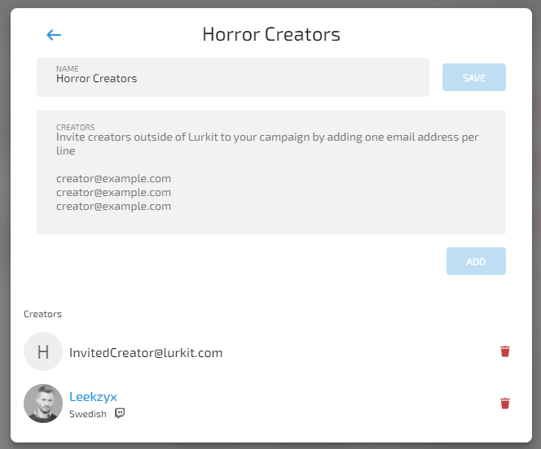 Adding Lurkit creators to your creator lists
Under each step of Participants for your campaign, you can add creators in bulk. Select as many creators as you want to and press Add To Creator List.
In the new pop up, select your desired creator list and confirm. You will receive a popup with feedback on the amount of creators that has been added to your creator list.

You can also add individual creators that have a Lurkit account to your creator lists by pressing Add To Creator List when browsing their profile.